One of the most profound tech­nical developments in recent years has been the advent of digital document management.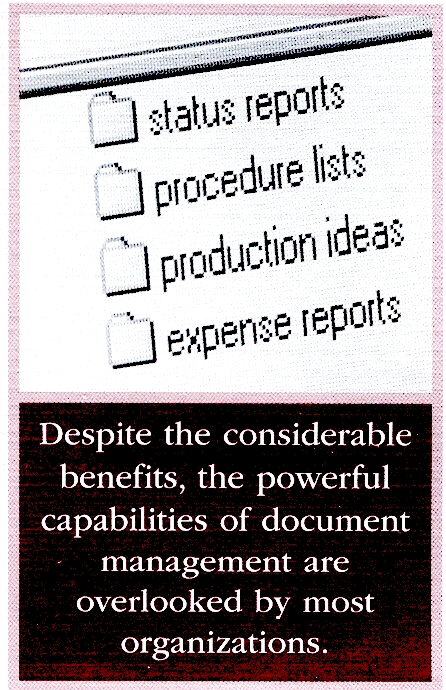 Organizations today can bring both their paper and digital documents together in one environment to search, distribute and archive them with a click of a mouse.
As a result, organizations in all industries can reduce administration costs, improve the efficiency of their workers, strengthen customer service and safeguard important information .
Despite the considerable benefits, the. powerful ­ capabilities of document management are overlooked by most organizations.
Businesses use a wide variety of documenls every day. Pick any process and you can be assured that, whether on paper or online, the job requires at least one document. Without documents to drive key processes, most businesses would simply see no business at all.
It makes sense to attend to the management of documents with
the same importance given to other key business components. Digital document management systems can improve how organizations share, file, retrieve and archive documents.
Paper documents can be scanned, eliminating the need for bulky filing cabinets and costly off­site storage. Once scanned, docu­ments can be indexed by key­words, making retrieval quick and thorough and safeguarding them from fire, floods or worse.

Capture the value
One important concept to under­stand when considering document management is known as "capture." There are two types of capture: image capture and data capture.
When you scan a paper docu­ment, you literally capture an image of that document. Scanning in lieu of printing or copying is at the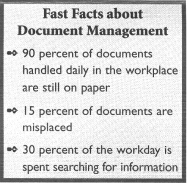 core of eliminating filing cabinets and storage boxes, and is a big improvement over the paperbound way of managing documents.
Data capture allows companies to quickly search and easily retrieve documents. Keyword data about each document - like customer name, account number, date or amount paid - are automatically gleaned from each document and retained in index fields.
Captured data, also known as "metadata: is used to enable a variety of searches, or queries. For example, a company can find all financial documents by date range, every invoice for a specific client, or shipping slips for a particular part in the warehouse.
This query function provides immediate access to documents electronically and is an improve­ment over pawing through forgonen boxes in the basement.
The key is to minimize the cost of capturing this data and to maximize the access to your docu­ments. Simply scanning documents to a file folder and then manually entering the meta data into fields on a PC can actually result in an increase in labor and expense.
Most document management systems automate this process by reading pre-set areas on a page (via optical character recognition) and thereby dramatically reduce the cost and hassle of data capture.

Lack of a document strategy will cost you
Manual searches that take hours can be conducted by document management systems in a matter of seconds - and often more efficiently.
In addition to the savings and efficiencies that are possible, designing a good document management strategy can increase the value of your other technology infrastructure investments as well. Printers, copiers, scanners and networks take on new vitality and value.
Digital document management is a powerful business tool that should not be overlooked. What­ever products or approach you consider, be sure to include the valuable benefits of both image and data capture in your evaluation.
- Kevin Craine, author of Designing a Document Strategy